Opalite is a trade name for man-made opalescent glass and various opal simulants. Other names for this glass product include argenon, sea opal, opal moonstone and other similar names.[1][2] It is also used to promote impure varieties of variously colored common opal.[1]

Natural Opalite (as opposed to the man made Opalite) shares the same basic chemical properties as Opal. It is made of tiny spheres of Silicon Dioxide which stack onto each other in a pyramid grid shape. This grid is what allows the cat's eye effect to be displayed when the stone is cut into a high domed cabochon. Natural opalite is referred to as "common opal" to prevent confusing it with glass opalite.

When opalite glass is placed against a dark background, it appears to have a blue color. When placed against a light background, it is milky white with an orange or pink glow. Because it is glass, it may sometimes contain air bubbles, an after effect of the forming process.
It promotes relaxations and has been used to help headaches. It has long been associated with the eyes. It was called the Eye Stone by early Lapidaries in the Middle Ages. Placed on the eyes for a few minutes it is reported to ease the tension of eye strain.
Mostly this is a soothing, calming, grounding crystal that reconnects you with the elemental joy of the natural world.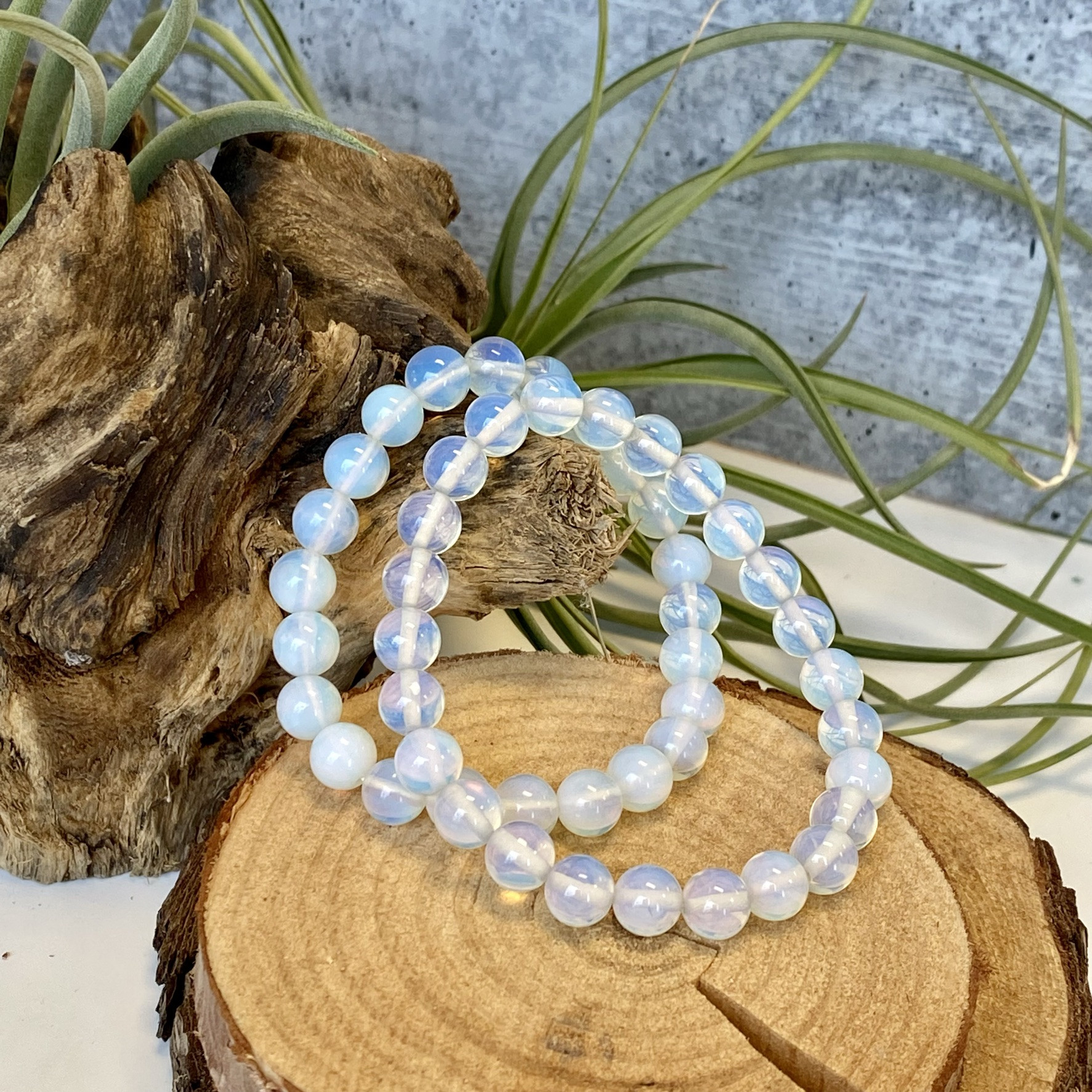 The spiritual meanings of Opalite are quick mood boosts, the ability to turn a frown into a smile, and the light of a clear blue sky.
Opalite's two primary colors, blue and white, come together to form its unique shine. Together they stand for openness, calmness, and purity. Like the beautiful skies of summer and the flat plains of snow in the winter, these two colors serve to bring peace to humanity by reminding them of the simplicity and beauty that Nature has.
Calming
Grounding
Encouraging
Motivation