Obsidian is an igneous rock that forms when molten rock material cools so rapidly that atoms are unable to arrange themselves into a crystalline structure. It is an amorphous material known as a "mineraloid." The result is a volcanic glass with a smooth uniform texture that breaks with a conchoidal fracture
The conchoidal fracture of obsidian causes it to break into pieces with curved surfaces. This type of fracturing can produce rock fragments with very sharp edges. The first use of obsidian by people probably occurred when a sharp piece of obsidian was used as a cutting tool. People then discovered how to skillfully break the obsidian to produce cutting tools in a variety of shapes. Obsidian was used to make knives, arrowheads, spear points, scrapers, and many other weapons and tools.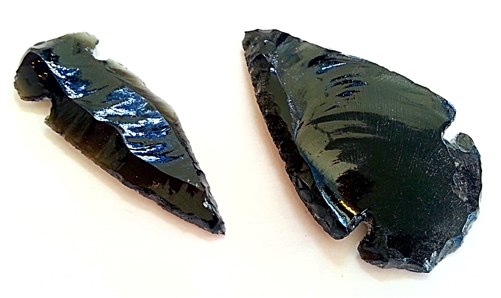 Once these discoveries were made, obsidian quickly became the raw material of preference for producing almost any sharp object. The easy-to-recognize rock became one of the first targets of organized "mining." It is probably a safe bet that all natural obsidian outcrops that are known today were discovered and utilized by ancient people.
The manufacture of obsidian tools by humans dates back to the Stone Age. At some locations, tons of obsidian flakes reveal the presence of ancient "factories." Some of these sites have enough waste debris to suggest that many people labored there for decades producing a variety of obsidian objects. Making arrowheads, spear points, knife blades, and scrapers from obsidian, chert, or flint might have been the world's first "manufacturing industry."

Obsidian was so valued for these uses that ancient people mined, transported, and traded obsidian and obsidian objects over distances of up to a thousand miles. Archaeologists have been able to document the geography of this trade by matching the characteristics of obsidian in outcrops with the characteristics of obsidian in cutting tools. A study done by the Idaho National Laboratory used composition studies by X-ray fluorescence to identify the source outcrops of obsidian artifacts and map their use across the western United States.
Although using a rock as a cutting tool might sound like "stone age equipment," obsidian continues to play an important role in modern surgery. Obsidian can be used to produce a cutting edge that is thinner and sharper than the best surgical steel. Today, thin blades of obsidian are placed in surgical scalpels used for some of the most precise surgery. In controlled studies, the performance of obsidian blades was equal to or superior to the performance of surgical steel.
The Obsidian crystal properties are also known for their stabilizing and grounding effects, making it an excellent crystal for reigning in scattered energies. Whenever you feel yourself spread too thin, hold a stone in each hand and feel it restoring harmony to you.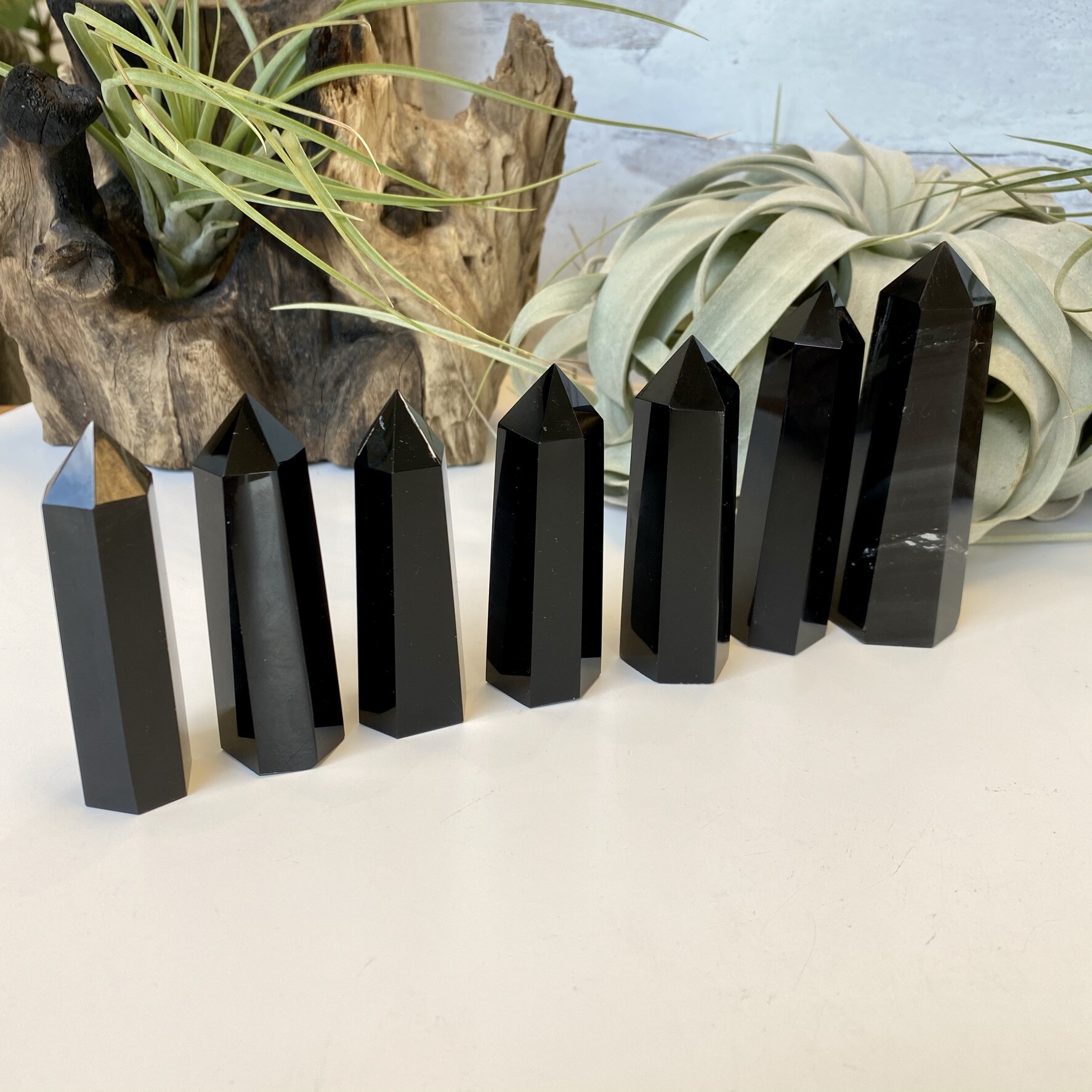 Its deep, trans-formative vibes also help enhance the stones around it, making it a big-time magnifier of healing energy.
The Obsidian stone also makes a trusted companion to carry with you during a healing process, especially one that unfolds over time. It gives us the strength and patience needed to overcome challenges, no matter how long the journey takes.
Obsidian is a strongly protective stone, forming a shield against negativity.
This is why it is recommend placing an Obsidian rock in your home or office, allowing it to work as an energy bodyguard.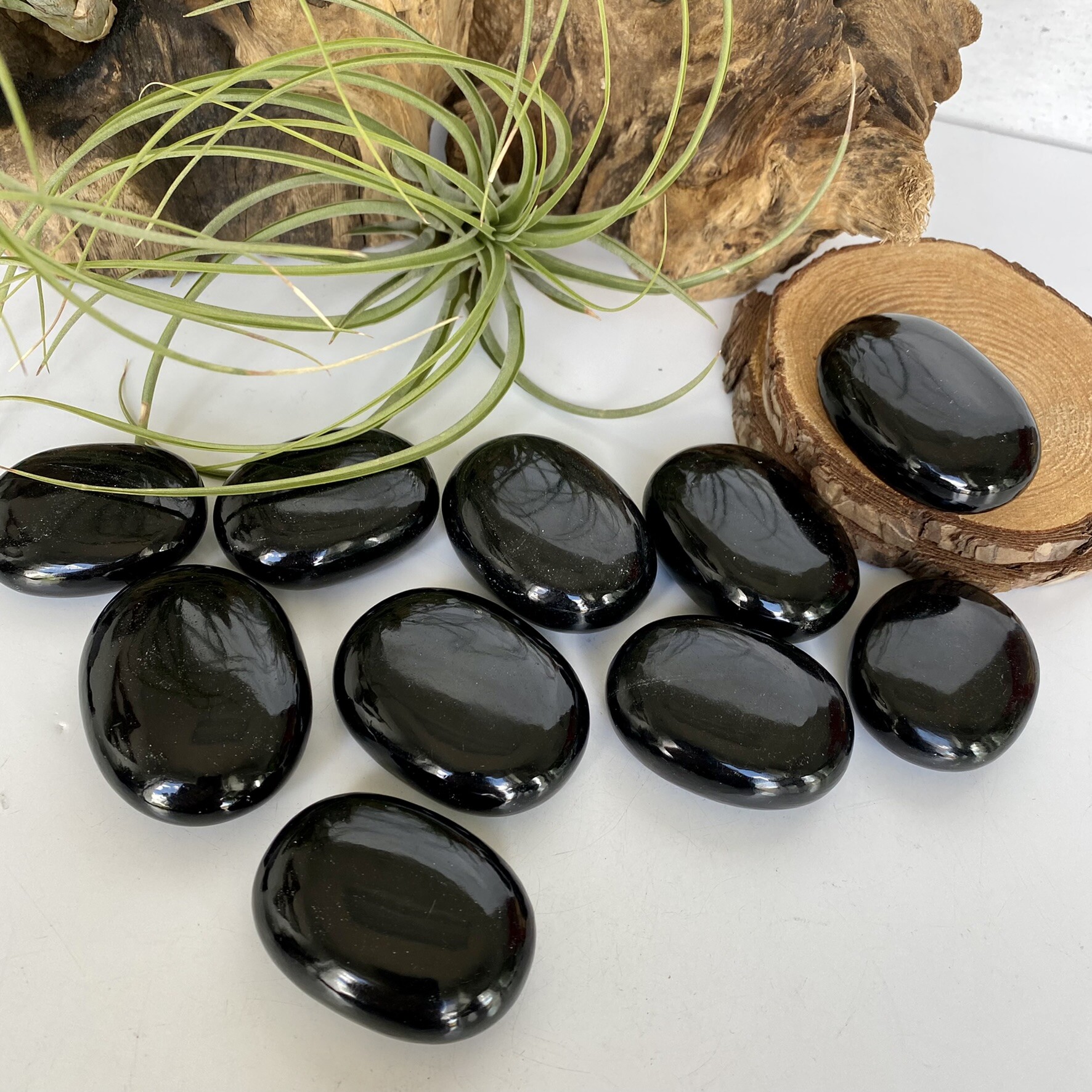 A large piece of obsidian rock can be extremely efficient at blocking geopathic stress or soaking up environmental pollution. Black or Mahogany are the most suitable types for this purpose, Mahogany being the gentler.
In the same way, placing Obsidian by the bed or under the pillow can draw out mental stress and tension, and may have a calming effect, but it can also bring up the reasons for that stress. These reasons then have to be confronted before peace can return; this resolves the problem permanently rather than having a palliative effect.
Black Obsidian is a very powerful and creative stone.
Self control is increased by the use of this stone. It repels negativity and disperses unloving thoughts. It facilitates the release of old loves and provides support during change.
Mahogany Obsidian:
Mahogany obsidian, also known as mountain mahogany, is natural glass obsidian that has iron (
hematite
) inclusions creating the mahogany colored stripes and swirls in it. Obsidian can be found anywhere volcanic activity has occurred.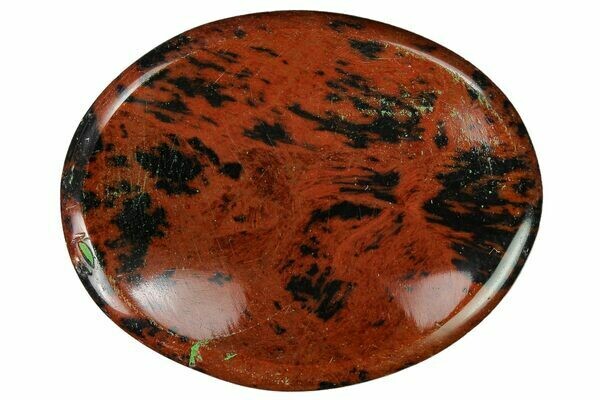 It helps us stay centered and approach life with a holistic attitude that includes caring for our spiritual, emotional, and physical needs in equal proportions. It also helps us to better recognize both the mind-body connection as well as the body-mind connection.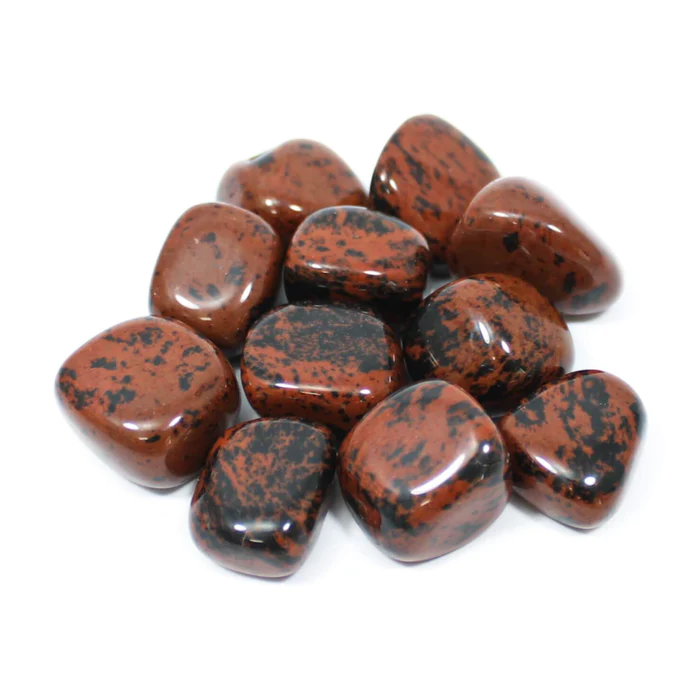 Mahogany Obsidian is a very comforting stone to work with when dealing with old emotional traumas and wounds. This frequency can gently and safely brings up unconscious memories of abuse, feelings of shame, and guilt, and beliefs about our own self worth.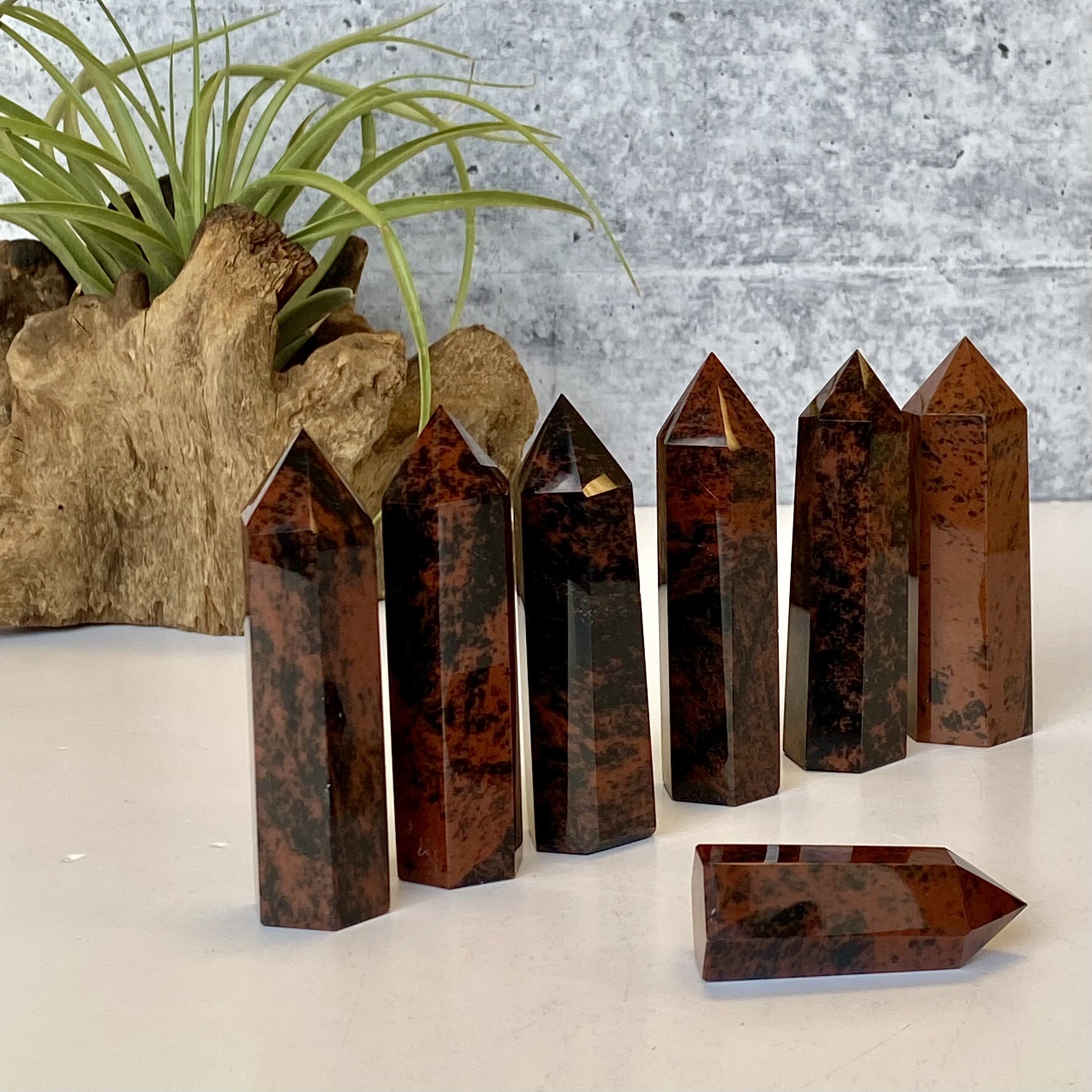 Mahogany combines the properties of obsidian and hematite making it an incredible grounding stone.