Garnet is also known for its utilization of creative energy.
It grounds spirit forces within the body and helps in the ability to work lovingly on the physical plane. Yet Garnet is a sensual stone.
It represents primordial fire, the creation of the world out of chaos, purification and love. It is a stone of strong, intense feelings.

The distinctive title Garnet is derived from the Latin name Granatum, a pomegranate, because of the resemblance the granular varieties of Garnet bears to the seeds of that fruit. Garnets vary in size from a grain of sand to the size of an apple. According to the Roman historian Pliny, the large dull-colored "Carbunculus of India" (a variety of Garnet) used to be hollowed out into vessels which would hold as much as a pint.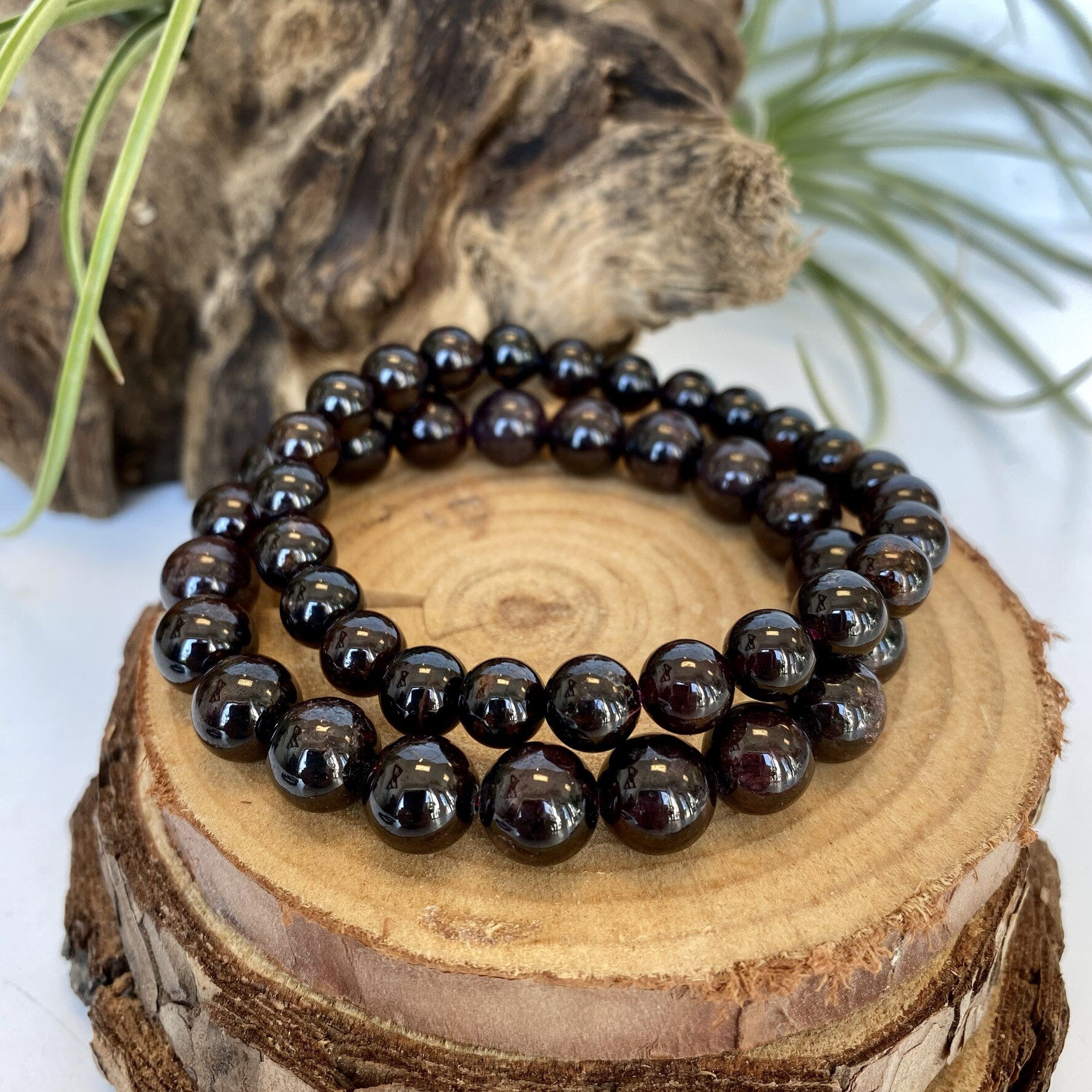 Garnet is said to have been one of the twelve stones in the Breastplate of the High Priest, and has been used as a sacred stone by the Native American Indians, the South American Indians, the Aztecs, the African tribal elders, and the Mayans.
It acts with speed to expand one's awareness due to the flash of lightening contained within, and enhances one's internal fire to bring creative powers to implementation.

Garnets whose color suggested that of blood, were not only believed to confer invulnerability from wounds, but some Asiatic tribes launched garnets from their sling bows, and later as bullets, the principle being the blood-colored stone would inflict a more deadly wound than a leaden bullet. Such were used by the rebellious Hanzas, in 1892, during their hostilities with the British troops on the Kashmir frontier, and many of these precious missiles were preserved as curiosities.

Today, Garnet is not only worn ornamentally as a beautiful gem, but is used widely in industrial markets, from watch gears and scientific instruments to sandpaper and abrasives.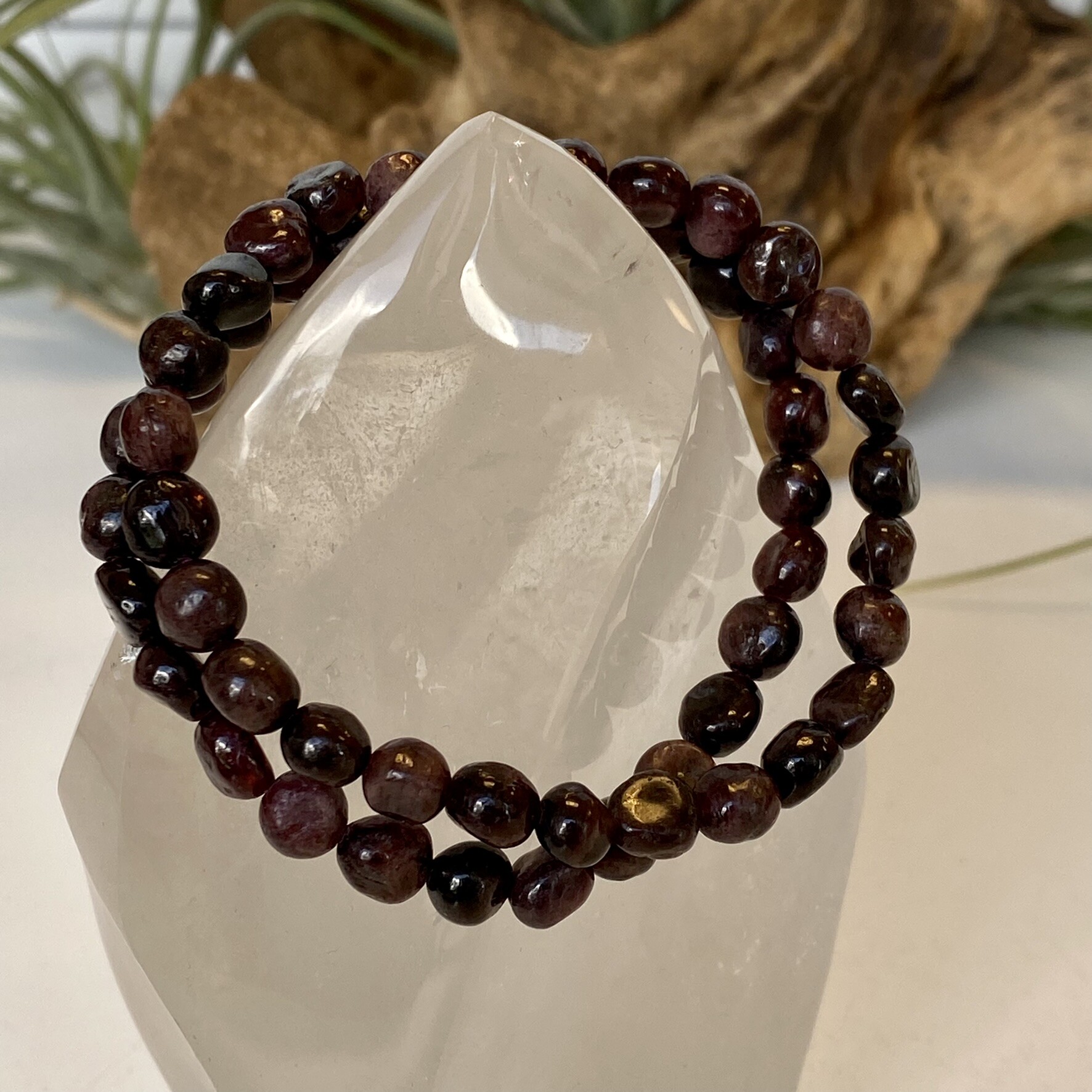 Garnet provides a protective influence and a calming stable vitality during use. It is thought to heal emotional problems. Placed under a pillow, Garnet is reputed to alleviate bad dreams. Medicine men used it to cure mental depression.

Garnet is useful to have in a crisis, particularly in situations where there seems to be no way out or where life has fragmented. It fortifies, activates, and strengthens the survival instinct, bringing courage and hope into those situations. Crisis is turned into challenge under Garnet's influence and promotes mutual assistance in times of trouble.

Garnet can act as a strong help to balance the energy system, stimulate desires and uplift your attitude. As a balancer stone, Garnet can prevent fears of insecurity and even money losses. They're lucky stones: lucky for love, success, and for goals. Use Garnet to increase your positivity and popularity, thus enhancing your personal self-esteem. As an energy stone, it can encourage success in business and business relationships. It is a wonderful executive gem, especially for women. Square cut garnets are particularly useful in bringing success in business matters.

Garnet has even been credited with aiding widows in finding a new husband. After mourning for too long, Garnet helps to regain the spirit, calming sadness and emotional pain, helping those who have gone through great despair get back on their feet and become seductive again. Perhaps the same could be true for widowers as well.