Abundance is a powerful synergistic blend of 8 essential oils that magnifies the vibration and energy needed to usher abundance into every area of your life. Use Abundance oil to begin to shift your mindset and create an energy that will attract prosperity, joy, and peace.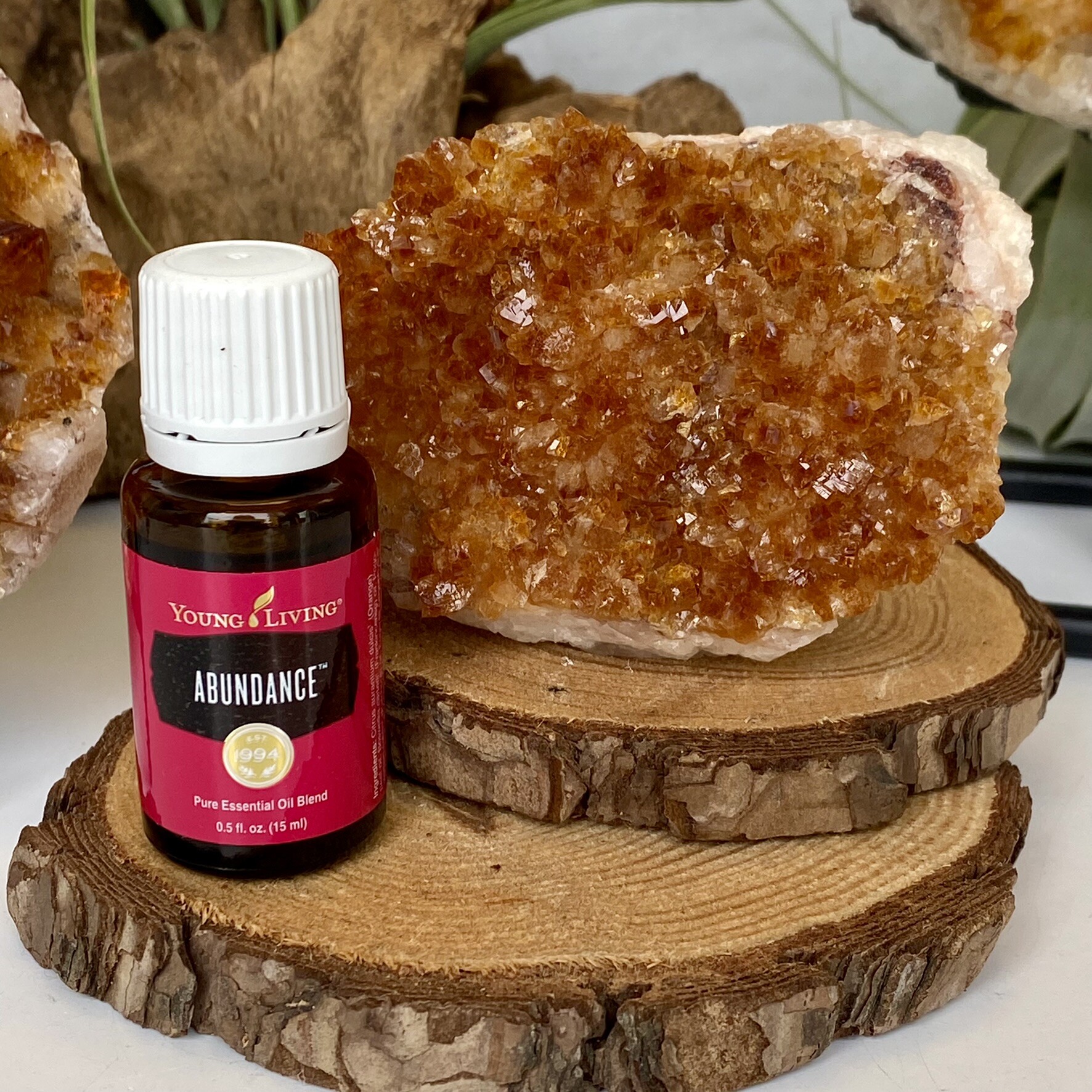 Abundance
This blend was specifically designed to enhance magnetic energy and to create the law of attraction through the magnetic field around us, to enhance one's thoughts by electrical stimulation of the somatides and the cells, and to put out a frequency charge of prosperity and abundance. It may attract riches to oneself. It also contains tremendous antiviral and antifungal properties, which may make it a very powerful support to the immune system, possibly giving one an abundance of health as well.
Single Oils Contained in This Blend:
Orange brings peace and happiness to the mind and body and joy to the heart, which feelings provide emotional support.
Frankincense contains sesquiterpenes, which may help oxygenate the pineal and pituitary glands. It may help promote a positive attitude.
Patchouli is sedating, calming, and relaxing––allowing it to reduce anxiety. It may have some particular influence on sex, physical energy, and money.
Clove may influence healing, improve memory, and create a feeling of protection and courage.
Ginger is warming, uplifting, and empowering. Emotionally, it may help influence physical energy, love, and courage. Because of its calming influence on the digestive system, it may help reduce feelings of nausea and motion sickness.
Myrrh is part of the formula the Lord gave Moses (Exodus 30:22-27). It is a true gift. When we open our hearts and minds to receive the gifts, they will be given.
Cinnamon Bark is part of the formula the Lord gave Moses (Exodus 30:22-27). It has very specific purposes: (1) it is a powerful purifier, (2) it is a powerful oxygenator, and (3) it enhances the action and the activity of other oils. It may have a stimulating and toning effect on the whole body and particularly on the circulatory system. It may also help bring about feelings of joy.
Spruce grounds the body, creating the balance and the opening necessary to receive and to give. It may help dilate the bronchial tract to improve the oxygen exchange. It also helps one release emotional blocks.
Body System(s) Affected: The oils in this blend may help it be effective for dealing with various problems related to the Immune and Respiratory Systems and to Emotional Balance.
Aromatic Influence: When diffused, this oil creates harmonic energy in the surrounding area.
Application May be worn on the wrists, behind the ears, and on the neck and face. Individuals with sensitive skin may want to dilute the blend with V-6 Oil or Genesis Hand and Body Lotion. May be worn as a perfume or cologne or placed on your checkbook, car dash, computer, phone, wallet, or in your purse. Try cooking with it. To create more business, add 1/2 bottle of to 5 gallons of paint before painting the office.
Frequency Physical; approximately 78 MHz––same frequency as the brain.
Safety Data Repeated use can result in extreme contact sensitization. Can be irritating to sensitive skin.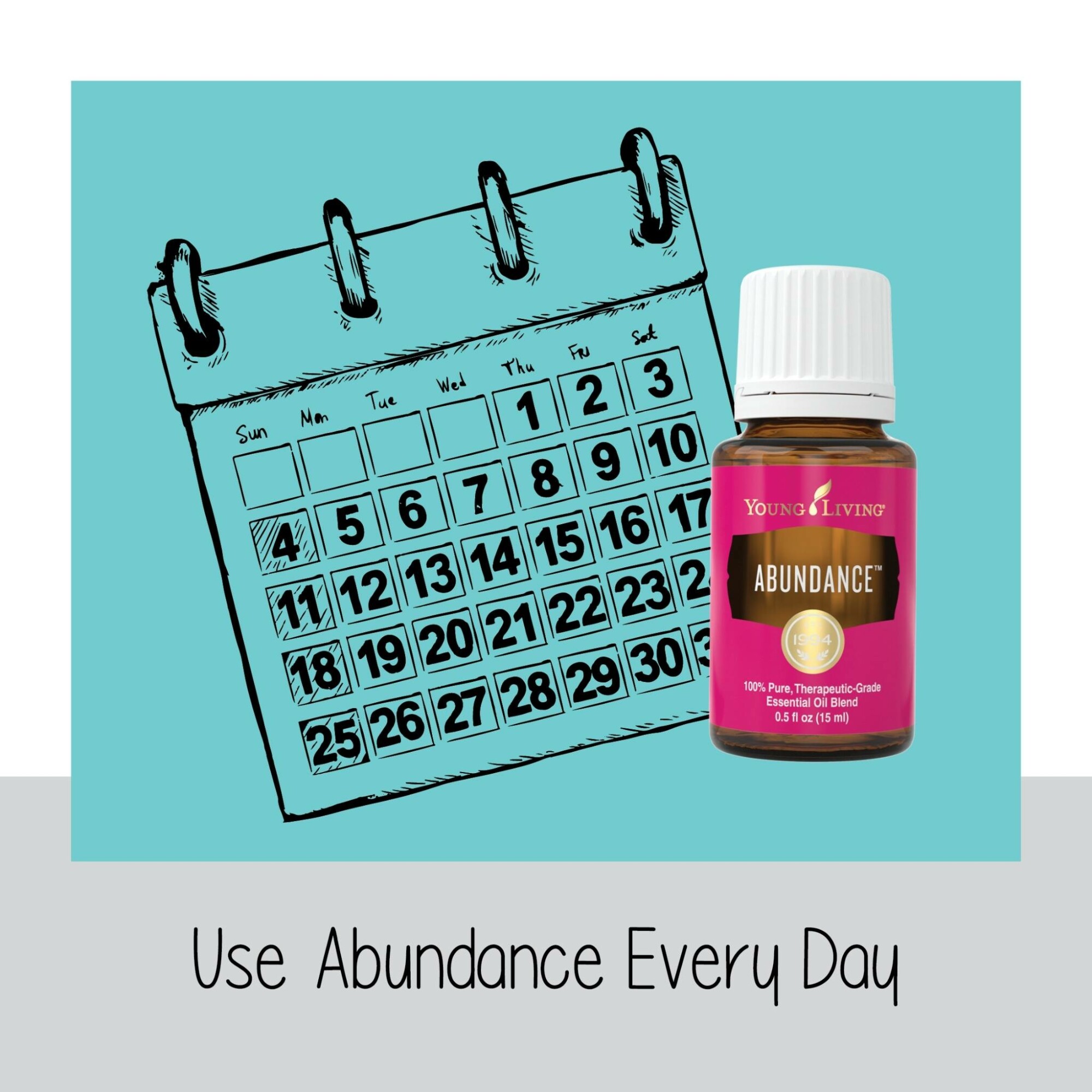 Topically: Place 3 drops into the palm of your hand. Use the opposite hand to make 3 clockwise circles with your fingertips to activate the oil. Apply to your forehead, temples, back of neck, wrists, or anywhere else. Then cup your hands over your nose and take 3 deep breaths. Note: this oil can be a little hot so add some carrier such as olive oil or coconut oil if needed.
Aromatically: Diffuse 4-6 drops for 20 minutes in the morning while getting ready, on your commute to work, or apply a drop to your diffuser jewelry and enjoy all day long.
For added benefit add a drop of Abundance to your wallet, your journal, your list of goals - wherever you need a little abundance in your life. #mindset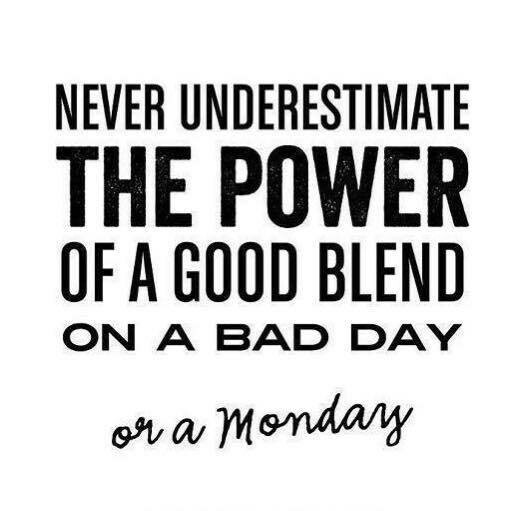 Clarity™ essential oil blend features 12 essential oils for an aroma that promotes feelings of stability, focus, and a sense of productivity for the spirit and mind.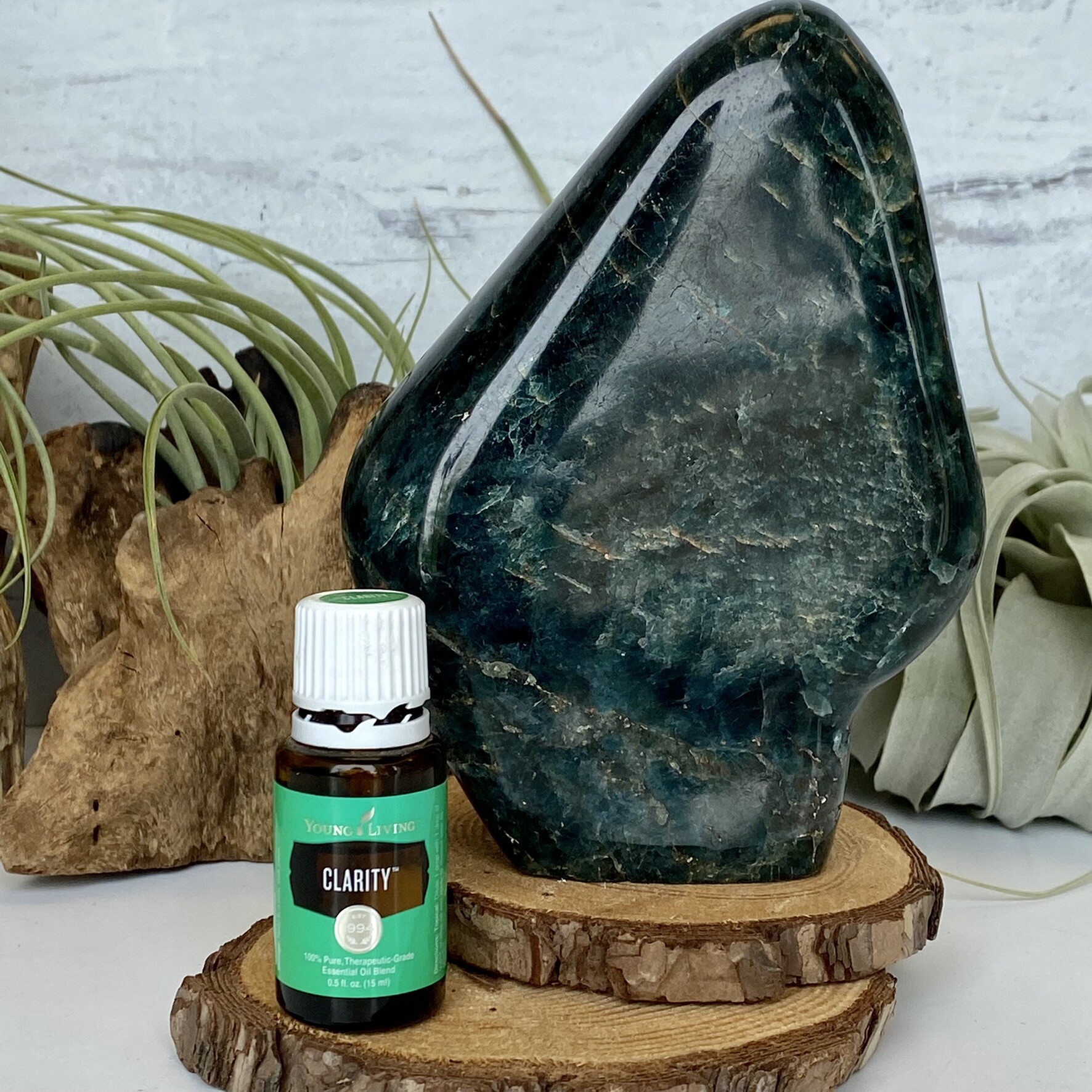 Clarity and Green Apatite
Clarity™
This blend may help with memory retention and mental alertness; it may even help oxygenate the brain. One may want to study with this blend diffusing and then smell this same blend during the test to help recall what was studied earlier. It may also be a stimulant for low energy and may help keep one from going into shock.
Single Oils Contained in This Blend:
Basil - has been found beneficial for alleviating mental fatigue. It may help sharpen the senses and encourage concentration. It may also stimulate the nerves and the adrenal cortex.
Cardamom - is uplifting, refreshing, and invigorating. It may be beneficial for clearing confusion.
Rosemary verbenon - may help balance heart function, energize the solar plexus, and reduce mental fatigue. It also stimulates memory and opens the conscious mind.
Peppermint - is an anti-inflammatory to the nerves and helps reduce inflammation in damaged tissue. It is soothing, cooling, and dilating to the system.
Dr. Dembar, of the University of Cincinnati, discovered in a research study that inhaling peppermint oil increased the mental accuracy of the students tested by up to 28%.
Rosewood - may help improve skin elasticity. It is soothing to the skin, appeasing to the mind, relaxing to the body, and creates a feeling of peace and gentleness.
Geranium - may help with hormonal balance, liver and kidney functions, and the discharge of toxins from the liver that keep us from having balance. Geranium opens the liver chakra.
Lemon - promotes health, healing, physical energy, and purification. Its fragrance is invigorating, enhancing, and warming.
Palmarosa - is valuable for all types of skin problems because it stimulates new cell growth, regulates oil production, moisturizes, and speeds healing.
Ylang Ylang - may help balance the male-female energies so one can move closer towards being in spiritual attunement and be able to focus their thoughts, filtering out the ever-present garbage and establishing a sense of relaxation. It brings back feelings of self-love, confidence, joy, and peace.
Bergamot - is soothing to the endocrine system and to the hormones. It may uplift and calm the emotions and help relieve anxiety, stress, and tension.
Roman Chamomile - neutralizes allergies and helps to cleanse the blood and expel toxins from the liver.
Jasmine - is very uplifting to the emotions; it may produce a feeling of confidence, energy, euphoria, and optimism. As an antispasmodic, it has been used effectively for menstrual discomfort, muscle spasms, and uterine disorders.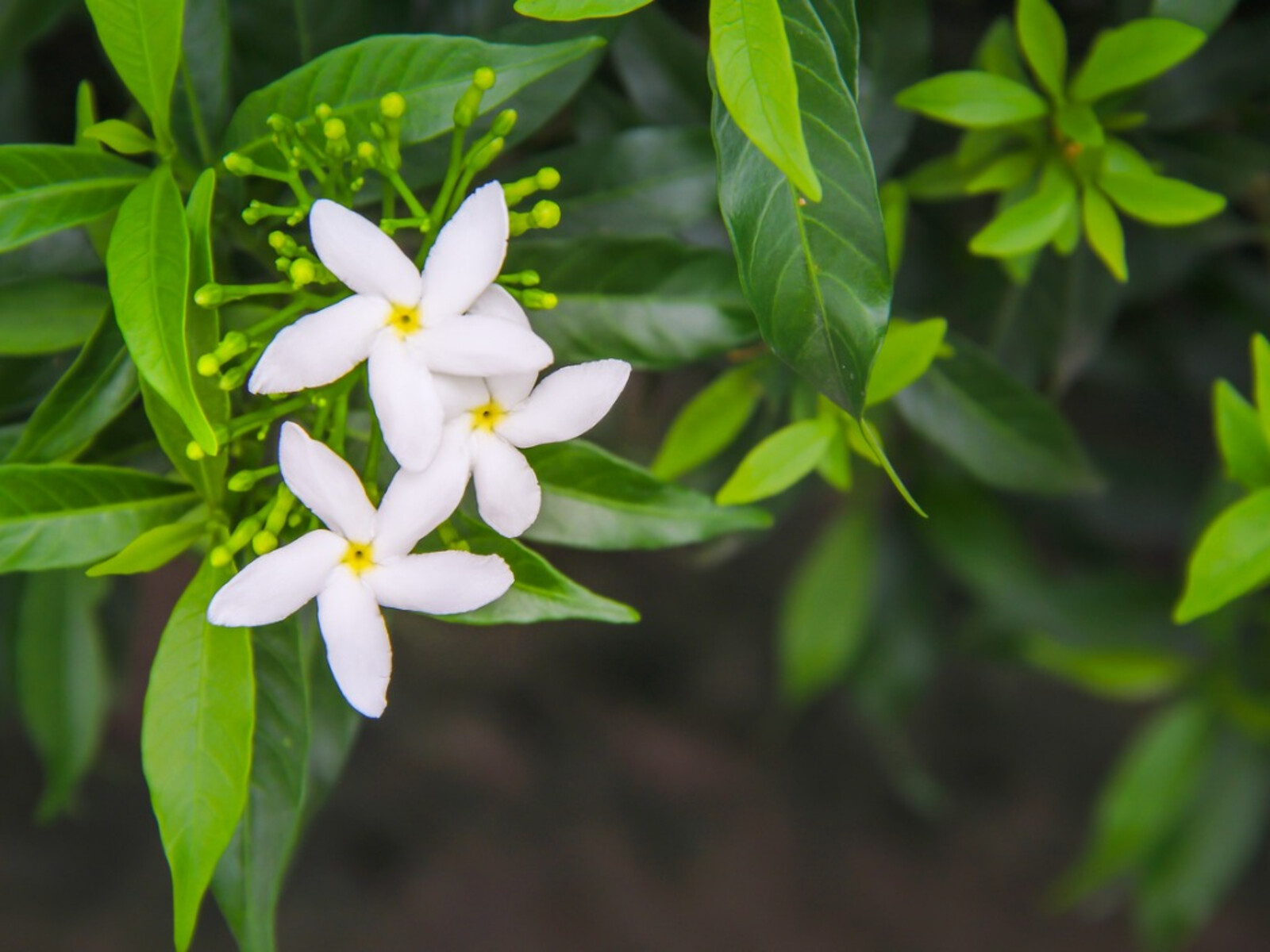 Body System(s) Affected: The oils in this blend may help it be effective for dealing with various problems related to the Nervous System and to
Aromatic Influence: The oils in this blend are known for their ability to help increase mental alertness. Simple diffusion can be achieved by applying a few drops of this blend on a cotton ball and placing it on the desk at work or in an air vent. Plastic nasal inhalers are also available
here
or
here
for more discreet, direct, and long-lasting personal use.
Usage Instructions
Application: Best when applied across the brow, on the back of the neck, on the temples, and on the wrists. This blend may be added to one's bathwater or worn as a perfume or cologne.
Safety Data: Can be irritating to sensitive skin. Use with caution during pregnancy. Avoid exposure to direct sunlight for up to 12 hours after use.
Companion Oils: This blend and En-R-Gee together may help one stay awake while driving late at night. Others include Brain Power, lemon, and peppermint.
Frequency: Emotional; approximately 101 MHz.
Notes: Since this blend contains cardamom and high levels of transphenol, it may cause headaches when inhaled if there is petrochemical or heavy metal accumulation in the brain.
Additional Information & Tips:
Oils can be used with diffuser bracelets made with
lava beads
. Simply place a few drops of oil in your palm and then swirl the beads in your palm to "apply" the oil to the beads. The scent should last 1-2 days. Lava beads are a simple but effective way to always have the blends with you.